"Thou Shalt Not Kill" = racist
UPDATES HERE

(via LVB: Tolerantie (1).) In the Netherlands, artist Chris Ripke reacted to the murder on Theo Van Gogh by an islamic fundamentalist by painting a mural with the text "Gij zult niet doden" ("Thou Shalt Not Kill"), one of the ten commandments of the Christian religion.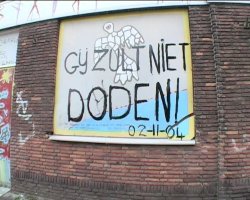 But because the head of the nearby mosque complained to the police that this was 'offensive' and 'racist', the cops came and sent in city workers to sandblast the mural. A local journalist, Wim Nottroth, who wanted to protest against this by standing in front of the mural was arrested. His story, in Dutch,
here
. Video of the event,
here
.
It has come to this.
In my opinion, free speech is something absolute. "Thou Shalt Not Kill" or "All infidels must die" both deserve equal protection. Mind you, as speech. Not as actions. I firmly believe that if everybody is free to shout out his opinions as loudly as possible, it becomes a whole lot easier to spot the dangerous people.
And then, via more free speech, it becomes possible to make them see the error of their way, or at least drive away supporters by exposing their 'funny' ideas.
Also, the moment they make a move to put ideas into practice that harm others, it's a whole other ballgame. Talking about killing somebody is okay, buying a gun to do it and staking out his house is not.
And it would be a whole lot easier for the cops to arrest some loon on a stakeout if he has been allowed to loudly trumpet his intentions before that. I'm just saying...