"Thou Shalt not Kill" Update
LVB has updates on the story: Tolerantie (3) (in Dutch). Basically the mayor apologized for having issued the order to the police to remove the mural. He did not apologize for the arrest of Wim Nottroth, the cameraman who tried to prevent the removal by standing in front of it. According to the mayor, citizens have to obey orders from the police.
Another funny fact mentioned by LVB is that by removing the mural an old advertisement became visible that belonged to the supermarket that used to be located there. If a mural with the words "Thou Shalt Not Kill" is offensive to the leader of the local mosque, how about a picture of sausages and hams, right next to the mosque in the middle of Ramadan?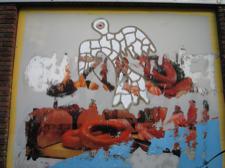 Also note my earlier post on this story. I'd also like to clear up some confusion that has arisen for my use of the word 'racist' in the title and the article. Looking at more sources, it seems the imam never claimed racism. He 'just' took offense. The reason I did use this word is because of the original source of the story, the 2525 blog of Francisco van Jole, states: "'Gij zult niet doden' is volgens de gemeente Rotterdam een opruiende racistische kreet waarvoor ze je arresteren." (According to the city of Rotterdam, 'Thou Shalt Not Kill' is an inciting, racist slur you can be arrested for).